CONNECTING THE DOTS WITH VENDORS
This dedicated section has been specially set up to help existing and prospective vendors to easily access necessary documents and obtain useful information while updating their company profile or applying for pre-qualification to Alba's vendors list.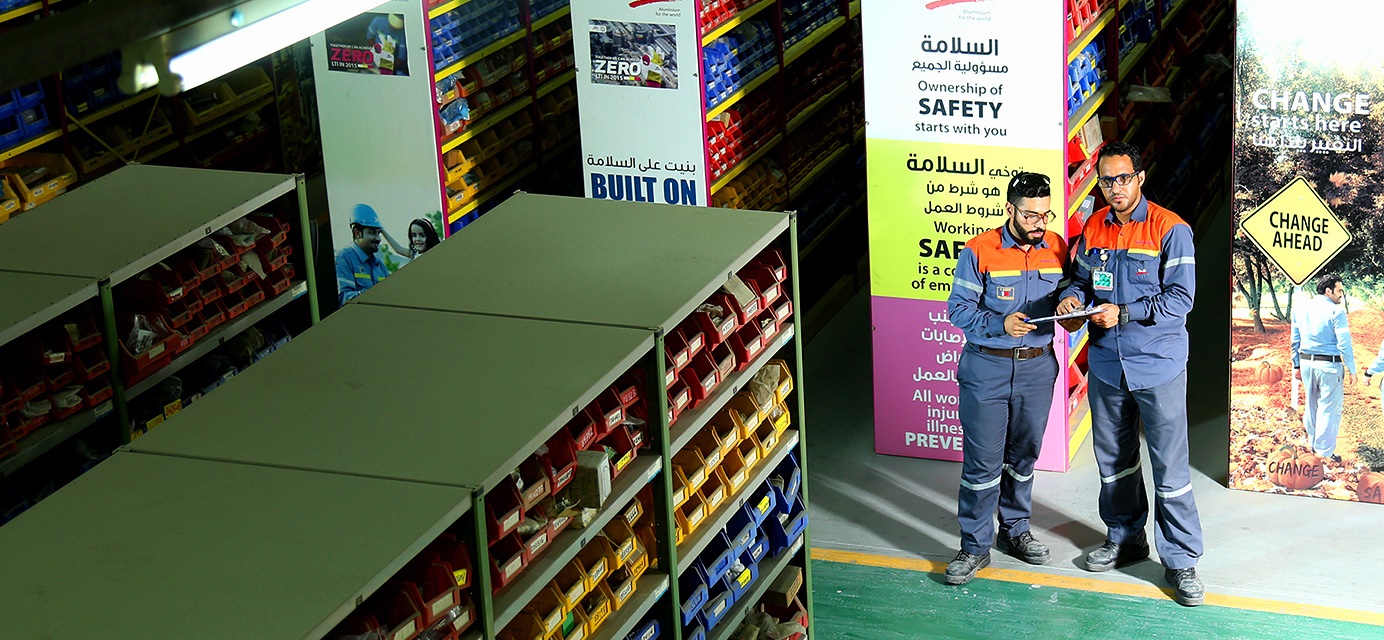 Sustainable Procurement
Alba is driven to do the right thing by all its stakeholders: employees, suppliers, customers, and local community.
We are fully committed to make a social impact through embracing sustainability across every function including sourcing and procurement.
We also understand that procurement performance improvement is a continuous process and acknowledge that we can't tango without our trusted suppliers. We have come a long way in our ESG journey thanks to the contributions of our suppliers.
For further insights, please refer to the Sustainable Procurement Policy.
A comprehensive set of robust policies and operating procedures are being followed in Alba: Procurement & Warehousing (P&W), Human Resources (HR) and Safety, Health and Environment (SHE) Departments continuously rate the ESG performance of our vendors and update our systems to comply with local regulations and best practices.
Alba implements a cutting-edge Enterprise Resource Planning (ERP) system to manage its entire supply chain process. Recent implementation and integration of SAP Ariba enabled "Procure-to-Pay" solution, making the ERP system fully automated and Alba closer to achieve the fourth industrial revolution "Industry 4.0". This system offers a common online platform for existing and prospective businesses to thrive as well as supports a plethora of important features from trading partner discovery and e-procurement to e-invoicing and shipping notification.
Ariba Network delivers reach, flexibility, and value to both Alba and vendors, thus enabling us to strengthen our core business through rigorous periodic performance monitoring and development of vendors in terms of supply services, quality, SHE, sourcing of critical supplies and services.
If you are not yet a member of Alba's official vendor list through Ariba Network, you can get the Vendor General Guidelines by clicking on the above tab.
Vendor General Guidelines
We have set clear guidelines for our vendors as well as detailed instructions for contractors to cover purchasing of goods and services, visiting staff, packing, marking, shipping, documentation, quotations, and health, safety, and social performance management.
Whether you are an existing or prospective vendor with Alba, we strongly recommend that you read and remain updated with the general guidelines as below. If you have any questions, please get in touch through the Contact Us form or go directly to the contact details on the Contact webpage; also make sure to provide details about your company before proceeding with the vendor registration and/or vendor profile update.
Guidelines
SAP ARIBA NETWORK
If you are new to SAP Ariba Network for Suppliers and intend to register with Alba as a vendor, please visit the following links and user manuals:
Vendor Registration
Aluminium Bahrain B.S.C. (Alba) has embraced SAP Ariba System to manage its Sourcing, Contracting and Procurement processes for Materials and Services. SAP Ariba enables Alba and its vendors to operate and transact in a more collaborative online platform (Ariba Network).
For more information, please visit Alba's Vendor General Guidelines section to learn more about SAP Ariba Network before proceeding with your Vendor Self-Registration Request which can be submitted by clicking here.
All registered vendors on Alba's Approved Vendors List don't need to apply again for registration. If you have already made a self-registration request, then you are not required to make another request. In case you would like to update your registered details, please do so via this link. For any queries, kindly feel free to write to us for guidance.
Registered vendors don't need to apply for registration
Register Now
Tender Notices
Currently, there are no tender notices.
Contact Procurement
Kindly visit the Contact Us page to find the Direct Contact details for Procurement Department.
Contact Us